Back
A solution is near for babies with RSV

A solution is near for babies with RSV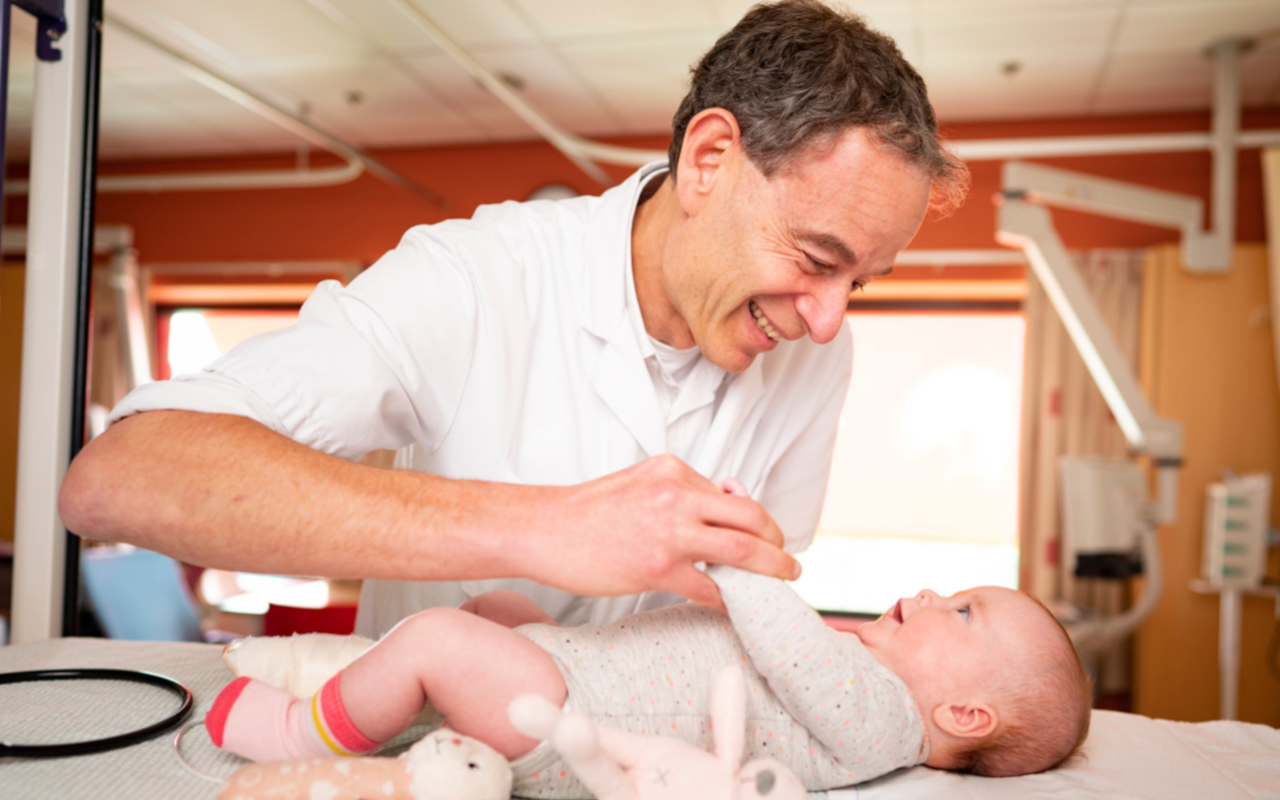 One in 56 healthy, full-term babies in Europe is hospitalised due to an infection with the Respiratory Syncytial Virus (RSV), according to a new study led by Prof Dr Louis Bont of UMC Utrecht. The study was published in the leading scientific journal The Lancet Respiratory Medicine. A first vaccine against RSV was approved by the European Union on 4 November and several vaccines are in development; a solution for babies with RSV is near.
Vaccinate baby or mother
One in 1,000 newborns born in five European countries had to be admitted to intensive care to survive an RSV infection. A key conclusion of this study is that RSV vaccination of infants or pregnant women has significant public health benefits. The European Union approved a first vaccine against RSV to protect all babies on Friday, 4 November. And alternative solutions to protect babies against RSV are also coming. For example, a vaccination study in pregnant women is now under way, in which not the baby but the mother can receive a vaccination, to protect the baby after birth. The initial results of this large international study of 7,400 pregnant women are decidedly positive.
"Vaccinating babies or pregnant women can help prevent babies from getting a life-threatening infection with the RSV " says Louis Bont, paediatrician-infectiologist at the Wilhelmina Children's Hospital in Utrecht. "For young children and their parents, we would of course like to prevent a drastic ICU admission. And we also have a strong global interest in doing so." Louis Bont sees how US colleagues are currently struggling with an early outbreak of the RSV.
Increase
The measures that protected us from Covid-19 in the recent period also helped to limit the spread of other viruses worldwide. It was helpful to keep a distance between themselves, wear mouth masks, and wash hands. Now that people are abandoning those measures, the RS virus is back in full force. "In the Netherlands too, we are preparing for more RS virus-related admissions. We see RSV increasing again with currently 3 children in our intensive care unit," says Louis Bont. "Fortunately, it is not yet them bad as in the United States where there is no place left to admit children with RSV."
RSV
Respiratory Syncytial Virus is a common and highly contagious seasonal virus that infects almost all babies and young children. Every year, 150 to 200 babies in the Netherlands end up in intensive care with this virus. Of all healthy babies within Europe, 2 per cent are hospitalised every year. Globally, there are about 33 million babies with acute lower respiratory tract infections leading to more than three million hospital admissions. Globally, RS virus is the second leading cause of death in infants.