Back
Center for Translational Neuroscience
Center for Translational Neuroscience

The UMC Utrecht Brain Center provides excellent care, educates the next generation of clinicians and researchers, and cultivates outstanding research in the neuroscientific field. We concentrate our research, clinical care, and education along six focus areas: epilepsy, stroke, neuro-oncology, developmental disorders, personalized psychiatry, and neuromuscular diseases.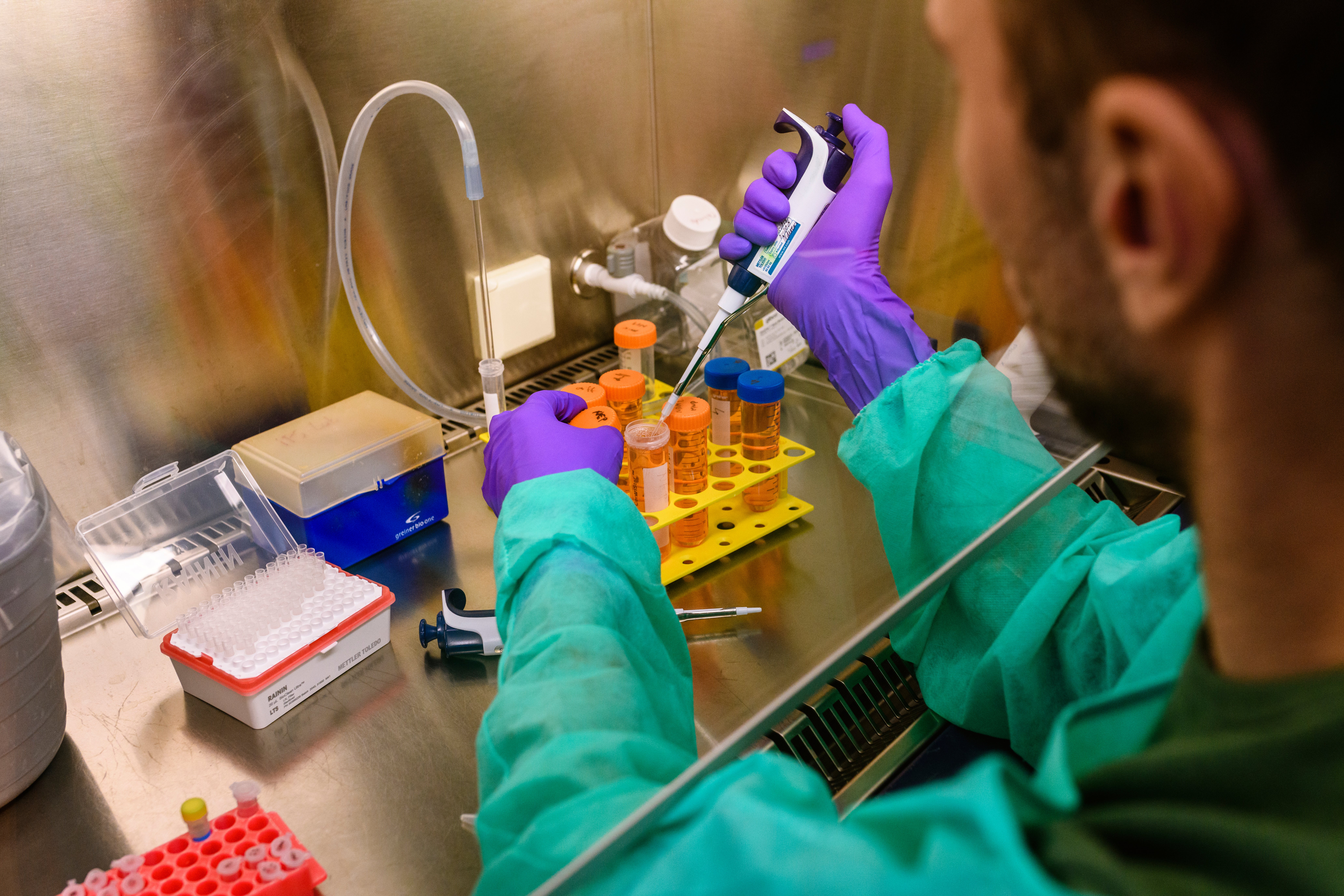 Goal
uitklapper, klik om te openen
The goal of the UMC Utrecht Brain Center is to unite all laboratory- and animal research within the six focus areas in a 'Center for Translational Neuroscience' (CTN). With this new research infrastructure, we aim to increase efficiency, improve and facilitate new collaborations, and share equipment and technical expertise. This will accelerate innovation in the field of neuroscience, resulting in more knowledge and new therapies for patients with neurological and/or psychiatric problems. Additionally, the CTN will cement the UMC Utrecht Brain Center's excellent reputation as an expertise center for neuroscience research regionally, nationally and internationally.
Research groups
uitklapper, klik om te openen
The CTN will include the laboratories of the department of Translational Neuroscience, the department for Developmental Origins of Disease (DDOD), the department of neurology & neurosurgery, the ENT department, and the Biomedical MR Imaging and Spectroscopy group.
Roger Adan

Position
Professor 'Molecular pharmacology'

Research description
Our main focus is on identifying and targeting the neural circuits that underlie eating disorders. With human genetics and scRNAseq data we identify cells that are underlying the processes that contribute to the development of eating disorders. Viral vector tracers, optogenetics, and electrophysiology are used to map neural circuits, calcium imaging (fiber photometry) is used to assess neuronal activity in awake animals and chemogenetics and pharmacology is used to unravel how specific neural circuits are implicated in regulating behaviors associated with eating disorders such as food reward seeking, feeding and hyperlocomotion.

Expertise
Electrophysiology
Eating disorders
Optogenetics

Contact
radan@umcutrecht.nl
+31 88 75 68517
STR.4.201

More information
Prof. dr. R.A.H. (Roger) Adan - UMC Utrecht
Roger Adan - Translational Neuroscience
Onur Basak

Position
Assistant professor

Research description
The cellular diversity of the human brain is immense, which is generated through evolutionarily conserved developmental mechanisms. The system is robust enough to create functional masterpiece; yet is susceptible to failure that may lead to cognitive dysfunction.

We study the molecular and cellular mechanisms underlying the functional diversity of the adult reward system, cell fate choices leading to its development and how these are affected in autism spectrum disorder.

For this, we use state-of-the art single cell RNA/epigenome sequencing techniques, CRISPR-mediated gene inactivation, mouse genetics, bioengineered organoids and computational tools to run multidisciplinary, collaborative projects

Expertise
Single-cell genomics
Reward system
Neural development

Contact
O.Basak@umcutrecht.nl
+31 88 75 68810

More information
Basak lab – Quantitative single cell biology of neural stem cells
Onur Basak - Translational Neuroscience
Rick Dijkhuizen

Position
Professor 'Experimental and Translational Neuroimaging', head of the Biomedical MR Imaging and Spectroscopy group

Research description
Our research focuses on multiparametric imaging of brain structure and function in health and disease, with particular emphasis on i) development of tools for improved diagnosis of brain disorders, ii) characterization of neural network (re)organization, and iii) monitoring of neuroprotective and -restorative therapies. We have a collaborative translational (bench-to-bedside-and-back) research program on stroke pathophysiology and recovery, involving preclinical MRI of brain injury and plasticity, and therapeutic non-invasive brain stimulation to promote functional recovery.

Expertise
Magnetic resonance imaging (MRI)
Stroke
Transcranial magnetic stimulation (TMS)

Contact
R.M.Dijkhuizen@umcutrecht.nl
Nw. Gildestein, Bolognalaan 50, 3rd floor, NMR facility
030-2535569

More information
Prof. dr. R.M. (Rick M.) Dijkhuizen - UMC Utrecht
www.dijkhuizenlab.nl

Carla Gomes da Silva

Position
Assistant professor

Research description
We aim at studying how neurons move in the brain during development and how their trajectory influences the way they establish connections with other neurons.

We use ex-vivo preparations of the developing brain from transgenic mouse models and techniques to label, visualize, and manipulate gene expression in inhibitory and excitatory neurons, such as in utero and ex vivo electroporation and viral vectors. We analyze the displacement of cells in the brain by time-lapse video microscopy that we complement with other optic methods, such as light sheet and super-resolution, to better understand the organization of cell populations in the developing brain.

We also make use of brain organoids and mouse models of diseases to investigate the developmental roots of brain disorders.

We have a close interaction with the laboratory of Dr. Frank Meye for the use of in vitro and in vivo electrophysiology and we use behavioral paradigms to evaluate the functional and cognitive alterations induced by manipulations in cell populations during brain development.

Expertise
Brain development
Imaging
Molecular neuroscience

Contact
C.S.GomesdaSilva@umcutrecht.nl
+31 88 75 68429

More information
Dr. C.S. Gomes da Silva - UMC Utrecht
Carla Gomes da Silva - Translational Neuroscience
Ewout Groen

Position
Assistant professor

Research description
Despite an ever-increasing understanding of motor neuron diseases and the development of gene therapies, our knowledge on modifiers that cause heterogeneous disease outcomes and therapy response remains limited. To improve our understanding of this heterogeneity and identify new genetic modifiers and biomarkers, we use a combination of experimental approaches including patient-derived cell lines, long-read sequencing and translatome analyses.

Expertise
SMA
Genetics
Personalized medicine

Contact
e.j.n.groen-3@umcutrecht.nl

University Medical Center Utrecht
UMC Utrecht Brain Center
SMA Center of Expertise & Department of Neurology
Heidelberglaan 100 (room G02.314)
3584 CX Utrecht

More information
www.ewoutgroen.com
Freek Hoebeek

Position
Professor 'Translational Research of Early Life Events '; head of the Department for Developmental Origins of Disease (DDOD); manager Education Division Woman & Baby

Research description
Our research focusses on the potential impact of the cerebellum on thalamocortical networks. We address three aspects of the cerebellar impact on thalamo-cortical networks: development, learning and memory, and epilepsy. Our work in animal models that mimic foetal growth retardation, prematurity and hypoxic-ischemic brain damage fuels both clinical research into designing novel therapies, as well as fundamental research into the ontogeny and maturation of cerebellar connections.

Expertise
Electrophysiology
Brain development
Neuroanatomy

Contact
f.e.hoebeek@umcutrecht.nl
+31 88 75 543 59

Wilhelmina Kinderziekenhuis
KE 04.157.0

More information
Prof. dr. F.E. (Freek) Hoebeek - UMC Utrecht
Elly Hol

Position
Professor Glia Biology of Brain Diseases', head of department Translational Neuroscience, Manager Education division Neuroscience

Research description
We aim to understand the role of glia in various brain diseases, such as dementia and glioma, and to study the regenerative potential of the astrocytic stem cells in brain diseases. We use human postmortem brain tissue, human iPS-cell technology, and mouse models to unravel the molecular and functional changes in glia in brain diseases. The ultimate goal of our research is to contribute to developing therapeutic strategies to control reactive gliosis and to stimulate the endogenous repair capacity of the astrocytic stem cells in brain diseases.

Expertise
Glia
Glioma
Organoids

Contact
E.M.Hol-2@umcutrecht.nl
088 755 501 81

STR.4.205

More information
Prof. dr. E.M. (Elly) Hol - UMC Utrecht
www.ellyhollab.eu
Elly Hol - Translational Neuroscience
Kevin Kenna

Position
Associate professor

Research description
We specialize in the development and use of bioinformatic solutions to study genomic dysfunction in neurological disorders. We support our computational analyses by performing in vitro validation assays and conducting multi-omic analyses of patient tissue. Our focus points are ALS, rare genetic variation, non-coding DNA, and non-coding RNA.

Expertise
ALS
Genetics
Bioinformatics

Contact
K.P.Kenna@umcutrecht.nl
STR.

More information
Dr. K.P. (Kevin) Kenna - UMC Utrecht
Kevin Kenna - Translational Neuroscience
Frank Meye

Position
Tenured Assistant professor

Research description
We study neural circuit function and its (stress-driven) dysfunction in relation to various brain diseases. To this end we use preclinical models, with approaches ranging from viral tracing, to neurophysiology (e.g. patch-clamp, hd-MEA and in vivo measures), to neurostimulation methods (e.g. optogenetics, chemogenetics).

Expertise
Neurophysiological read-outs
Neural circuit plasticity
Neurostimulation

Contact
F.J.Meye-2@umcutrecht.nl
+31 (0)88 756 1234 

More information
Dr. F.J. (Frank) Meye - UMC Utrecht
Frank Meye - Translational Neuroscience
www.meyelab.net
Cora Nijboer

Position
Associate professor

Research description
Our mission is to perform meaningful translational research for (extreme) preterm and term neonates who suffer from brain injury early in life. We aim to discover novel therapeutic targets and develop clinically applicable treatment strategies using clinically relevant in vivo and in vitro model systems. We focus on both early neuroprotective mechanisms as well as neurorepair strategies including intranasal stem cell and growth factor therapy. We do this work in close partnership with the clinicians of the department of Neonatology to effectively bring novel treatments from bench-to-cribside, through active engagement in several clinical trials that were designed by preclinical research performed in my group.

Expertise
Neonatal brain
Neuroprotection
Stem cells

Contact
C.Nijboer@umcutrecht.nl
+31 88 75 543 60

Wilhelmina Kinderziekenhuis
KC03.068.0

More information
Dr. C.H.A. (Cora H.A. ) Nijboer - UMC Utrecht
Jeroen Pasterkamp

Position
Head Department of Translational Neuroscience
Chair UMC Utrecht Brain Center

Research description
Our research focuses on understanding 1) the molecular mechanisms involved in the development of neuronal circuitry, and 2) the disease mechanisms responsible for changes in or loss of neuronal connectivity during motor neuron disease (ALS) and other neurodegenerative diseases. We apply an integrated experimental approach including mouse genetics, humanized cell models (iPSC, organoids, microfluidics), molecular cell biology, and (light sheet) microscopy.

Expertise
Dopamine neuron
Amyotrophic lateral sclerosis (ALS)
Organoids

Contact
r.j.pasterkamp@umcutrecht.nl
06-31119009

STR. 4.209

More information
Prof. dr. R.J. (Jeroen) Pasterkamp - UMC Utrecht
www.jeroenpasterkamplab.com
Ludo van der Pol

Position
Professor of pediatric neuromuscular diseases

Research description
We use a range of clinical, imaging, molecular, and neurophysiological approaches to study the pathophysiology and to identify factors that modulate the natural history of hereditary proximal spinal muscular atrophy (SMA or 5qSMA) and related disorders, before and during treatment. Moreover, we study the pathophysiology of chronic inflammatory neuropathies, including multifocal motor neuropathy (MMN) and chronic inflammatory demyelinating polyneuropathy (CIDP), in order to optimize treatment and identify new therapeutic targets.

Expertise
Natural history
Genetic and anti-inflammatory treatments
Biomarkers

Contact
W.L.vanderPol@umcutrecht.nl
F.02.2.26

More information
dr. W.L. van der Pol - UMC Utrecht
Diane Smit

Position
Otorhinolaryngologist
Clinical Scientist
Epidemiologist

Research description
Our research aims to optimize the diagnosis and treatments for children and adults with hearing loss including tinnitus. We focus on improving the quality of research in this field and implementing outcomes in clinical care to optimize health care.

Expertise
Hearing difficulties
Tinnitus
Evidence based medicine

Contact
a.l.smit-9@umcutrecht.nl
+31 88 75 732 91
Department of Otorhinolaryngology, Head and Neck Surgery, UMCU

More information
A.L. Smit - UMC Utrecht
Orcid
LinkedIn
Natalia Smith-Cortinez

Position
Postdoctoral researcher (permanent position)

Research description
Our research focuses on resident stem cells in the cochlea of adult patients to evaluate their regenerative capacity in order to promote hair cell regeneration in adults. We evaluate survival of LGR5+ stem cells in deafened mice and presence of stem cells in the inner ear of adult patients.

Expertise
Inner ear regeneration
Cellular and molecular biology
Human primary organoids

Contact
N.F.SmithCortinez@umcutrecht.nl
+31 88 75 57579
Department of Otorhinolaryngology, Head and Neck Surgery, UMCU

More information
Linkedin
Researchgate

Inge Stegeman

Position
Associate Professor

Research description
Our research focus lies on the crossroad of clinical and meta-research. I am the coordinator of the Open Science to Increase the Reproducibly in Science (OSIRIS) project, in which we aim to provide an evidence base for interventions that aim to improve the quality of biomedical research. We use the information from meta-research projects to improve clinical research mainly focusing on tinnitus and hearing loss.

Expertise
Open Science
Tinnitus
Epidemiology

Contact
i.stegeman@umcutrecht.nl

More information
Twitter
ResearchGate
Osiris
Robert Stokroos

Position
Chair, department of otolaryngology head and neck surgery
Full professor in otolaryngology- head and neck surgery
Otolaryngologist with focus on otology skull base surgery

Research description
Our research focuses on understanding and improving sensory function, especially hearing and tinnitus. This research is in part fundamental, in part translational and in part clinical. Fundamental studies include hair cell regeneration and complex electrophysiology, translational studies include improved neuromodulatory implants for hearing loss and tinnitus and clinical trials include clinical trials to test novel treatments or accurately identifying patient groups to improve functional outcomes.

Expertise
Hearing
Tinnitus
Otolaryngology

Contact
r.j.stokroos@umcutrecht.nl

More information
Group Stokroos
Prof. dr. R.J. (Robert) Stokroos - UMC Utrecht
ResearchGate
LinkedIn

Louise Straatman

Position
ENT surgeon
Otologist

Research description
Our research is focussing on treatments for hearing loss, including the regeneration of lost hair cells out of endogenous cochlear stem cells. In addition, we aim to prevent hearing loss and optimize hearing outcomes in patients by using hearing implants (like bone conduction devices and cochlear implants), including optimizing surgical strategies and outcomes.

Expertise
Regenerative therapies for hearing loss
Hearing implants
Prevention of hearing loss

Contact
L.V.Straatman@umcutrecht.nl

More information
L.V. (Louise) Straatman - UMC Utrecht
Hans Thomeer

Position
Neurologist, Assistant Professor
PI on different research topics.
Clinical researcher and dedicated to specialized surgical care on sensorineural hearing loss and deaf patients.

Research description
Cochlear implantation and hearing/structure preservation surgery. Specialized in translational neuroscience from LAB to clinic. Application of neurotrophic factors, steroids and protective agents in guinea pig model as well as in patients.

Expertise
Sensorineural hearing loss
Cochlear implantation
Hearing preservation surgery
BDNF/NT3
CBCT scan
Temporal bone
Skull base surgery
Otosclerosis

Contact
h.g.x.m.thomeer@umcutrecht.nl
088-755 6644
Heidelberglaan 100, G05.130

More information
H.G.X.M. Thomeer - UMC Utrecht
Loop
ResearchGate
Jan Veldink

Position
Professor of Neurogenetics

Research description
The overall aim of our research is to understand the genetic and environmental causes of ALS and related diseases. With Project MineE, a large-scale international collaboration, we are sequencing whole genomes of 15,000 ALS cases and 7,500 population-matched controls. By combining phenotypic information, whole-genome sequence data, SNP-array data, and methylation data for every sample we aim to better understand how one mutation has various clinical outcomes.

Expertise
ALS
Genetics
Sequencing

Contact
J.H.Veldink@umcutrecht.nl
F.02.2.26 / STR. 4.127

More information
prof. dr. J.H. (Jan Herman) Veldink - UMC Utrecht
Huib Versnel

Position
Senior investigator

Research description
The goal of our research is improvement of hearing in patients suffering sensorineural hearing loss, including deaf patients with a cochlear implant. We attempt to reach that goal by 1) neurotrophic treatment of the auditory nerve and protection of the residual structures to improve the neural interface of the cochlear implant, 2) investigating stem cell methods to regenerate cochlear hair cells and 3) developing objective measures that can be applied in patients in order to improve diagnosis, prognosis and expectancy management, and to assess effects of interventions as music training.

Expertise
Auditory Neuroscience
Electrophysiology
Evoked Potentials

Contact
h.versnel@umcutrecht.nl
088-7557724
06-43779037

More information
Dr. H. (Huib) Versnel - UMC Utrecht
Rudolf Magnus Seminar Series
uitklapper, klik om te openen
The CTN, together with the PhD program 'Clinical and Experimental Neuroscience', organizes the Rudolf Magnus Seminar Series. These monthly lectures focus on neuroscientific laboratory research. Every edition, an amazing keynote speaker will give an inspiring lecture. The goal is to create more in-depth knowledge on laboratory research (new developments, techniques etc.) and improve collaboration. The series is aimed at laboratory researchers but is open for all neuroscience researchers. The program, compiled by a number of enthusiastic PhD students from the different laboratory departments, can be found below.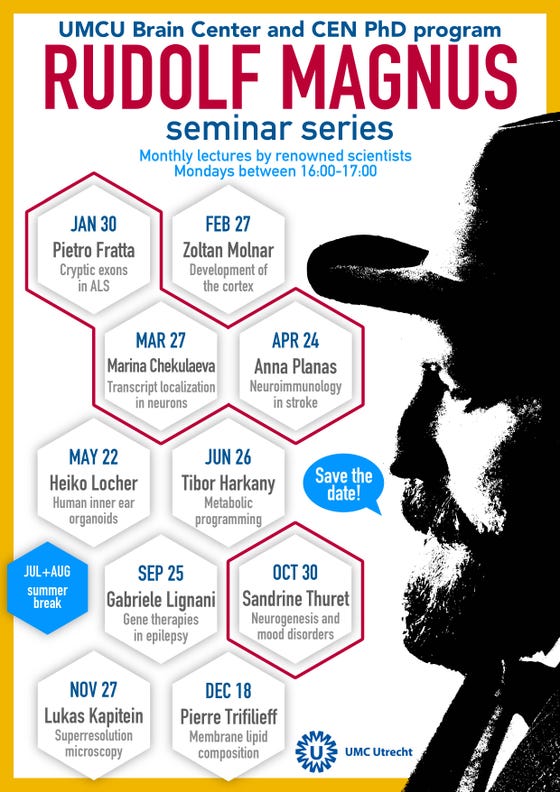 Thank you for your review!
Has this information helped you?